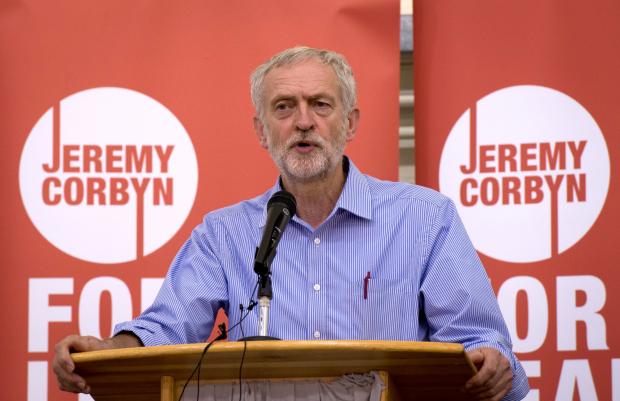 Richard Roaf stands in front of a room of strangers, looking for conservative spies. He scans the room, then hunches over a computer to check names. To be extra sure, he asks everyone to introduce themselves.

Roaf is only half joking about spies. He's gathered this group in the back room of a union building in Bristol, England to teach its members to make viral videos for Momentum, a grassroots campaigning wing of the Labour Party. Many credit its cutting-edge digital tactics with transforming the Labour Party, the democratic party in British politics, from an object of ridicule to a genuine contender for control of Parliament.

Momentum's approach has bucked convention. Instead of paying for Facebook ads, Momentum has focused on building software, apps, and other digital tools to reach left-leaning Britons organically. Momentum spent £2,000 on Facebook advertising; the Conservative party spent £1 million. The Conservative Party can afford it: It raised £25 million in the three months running up to the election—three times the amount taken by Labour. Yet by last summer's election, nearly one in four UK Facebook users had watched a Momentum video.

The Labour Party's leader, Jeremy Corbyn, lost the election. But Labour gained 30 seats in parliament, taking its total to 262 and toppling the Conservative majority. Overnight, Corbyn went from a political laughing stock to a serious threat to the Conservative government. Momentum's campaigning tactics are forming the basis of a playbook, and progressives around the world are watching—including those in the US, who are looking for a path to rebuild for future elections. Momentum's success is making progressives realize that if they want to win, they're going to have to run their campaigns a lot more like startups.
Just weeks after Jeremy Corbyn was elected leader of the Labour Party in September 2015, his supporters started planning how to support him. Corbyn has served as the parliamentary representative for Islington, North London, for 34 years. For many young people and poor people, Corbyn's election offered hope that the austerity policies of the Conservatives might come to an end. But for the center-left of the Labour Party, his election was untenable. Corbyn's supporters realized they would have to act swiftly to keep him in office.

Within weeks of Corbyn's election, a supporter named Jon Lansman started Momentum, a grassroots organization that aimed not only to protect Corbyn's position, but also to see him elected prime minister. By 2016, Momentum had a paid, formal membership structure, and cells in different UK cities. Within each cell, groups organized themselves into circles of interest—a structure borrowed from the Occupy movement. By the time of the election, the group had roughly 27,000 members, all committed to using their skills to aid Corbyn.

Roaf was recruited by Momentum to put together a team of four or five video producers. He quickly realized that the demand to help outstripped the number of positions available. Rather than form a traditional, top-down organization, Roaf used the Momentum email list to create a network of independent producers.

Roaf seized on a responsive way of working. Sometimes, video makers would come to him with fully formed videos, ready for distribution. Other times, Roaf and other Momentum members would work with producers on their ideas. "Before, when I tried to get in a touch with the Labour Party, they had a fixed way of doing things," Roaf says. "Momentum is more flexible and keen for people to get involved."

The most successful Momentum video, "Daddy, why do you hate me?" showed a girl asking her Tory-voting father why she couldn't go to university like him. Its purpose was to rally younger voters around intergenerational inequality. It attracted six million viewers.

Social media often silos political messages, showing campaigns only to those who have already been converted. But remarkably, Momentum's strategy managed to reach new supporters. In the last week of the campaign, just 5.3 percent of those who watched a Momentum video had already "liked" Jeremy Corbyn's Facebook page.

This distributed way of organizing—training individuals to act on behalf of the broader movement—has been embraced by progressives, according to Rapi Castillo, a New York-based software developer. During the 2016 American primaries, Castillo, a Bernie Sanders supporter, was one of the developers behind Coders For Sanders, a volunteer coding network that morphed into the Progressive Coders Network after Sanders's unsuccessful presidential bid.

Open-source software hosted on Github now forms the basis for what Castillo calls a "knowledge base," where coders can collaborate to build tools quickly. "As we move forward it's going to grow more and more," he says. "That's why we are so excited about what's going on in the UK."

Coders for Corbyn was inspired by Castillo's group. "They saw the tech in our campaign and they wanted to apply it in the leadership run," Castillo says. One UK coder, Greg Dash, was working as a social researcher in 2015. He contacted Castillo about the Bern Kit: an online toolkit full of apps. It was created by Coders for Sanders to provide Bernie's supporters with campaigning tools. Dash, along with Coders for Corbyn, used that open-source software to create the Corbyn Kit, which now contains everything from Jerimojis (emojis of Jeremy Corbyn and the Labour Party) to an app that blocks fake or troll Twitter accounts.

Dash, who was recruited after the election to work as a political advisor within the party, says that devolved campaigning has become a core component of the Labour party's digital strategy. "This is just the way that politics is evolving," he says. "We are keeping up with it and the [Conservatives] are not."
Claire Sandberg, the digital director for Bernie Sanders' presidential run, watched the 2017 UK election results from London. She had come over to introduce Momentum campaigners to approaches that worked for Sanders—like using peer-to-peer texting, Slack groups, and apps to organize volunteers.

In particular, Sandberg had high hopes for one Momentum project: My Nearest Marginal, an app that tackles the problem of how to distribute door-knockers to seats that need them most. On the app, campaigners can submit their postcode and find their nearest marginal seat, along with dates and times of door-knocking events and carpools of volunteers. Though Sandberg had seen similar organizing tools in the US, none had been so effective. My Nearest Marginal cost almost nothing to create. Yet it mobilized roughly 100,000 people to share their stories on doorsteps around the country.

My Nearest Marginal gave volunteers a fast way to plug in and start talking to voters. But, more importantly, it gave them a bird's eye view of electoral strategy. "What was different about these campaigns was really how they empowered volunteers to lead campaigning on their own," says Sandberg. "Establishment campaigns never would have permitted [that]."

On election day in the UK, the volunteers contacted voters across a variety of networks. They devised ways to use existing technology, such as WhatsApp, to distribute political messages rapidly. On election day, Momentum pushed WhatsApp messages telling people to go and vote. A link encouraged recipients to forward the message to friends, leading to a WhatsApp cascade that reached 400,000 people. A phone canvassing app, developed by the Bristol branch of Momentum, made 100,000 calls. A website set up by Momentum captured more than 10,000 pledges from people who agreed to take election day off work and go door-knocking.

Jeremy Corbyn lost, but the Labour Party destroyed the Conservative majority, significantly weakening the ruling party's position in parliament. Labour gained 35,000 members in the four days after the general election. It grew to more than 550,000, making it the biggest political party in Europe. This was its own kind of victory. Sandberg had barely allowed herself to dream that the UK election would turn out like it did: "I was afraid to hope the result would be so dramatic."

Though Sandberg no longer works for Sanders, she and many of her colleagues in the US have kept in close communication with UK activists, as they prepare for the 2018 midterms. "The channels for coordination that we used to share ideas are still open," she says. "We recognize that we're in a common global movement to replace the neoliberal economic system of the past 30 years."

This network may prove crucial for the future of left-wing politics. Recently, British conservatives started their own grassroots campaign, Activate, to replicate the success of Momentum. But the campaign tech employed by the left relies on a groundswell of volunteers. Conservatives might have money, but they don't yet have a social movement on which to pin their campaign. And grassroots movements, by their nature, can't be mandated.

Castillo says that in the upcoming 2018 US midterm elections, the Progressive Coders Network will look to adapt Momentum tactics—including software, videos, and My Nearest Marginal.

They're just waiting for the right candidate. "We believe tech has to be a supporting arm," Castillo says. "We listen to the thought leaders."
Source: Google Alerts