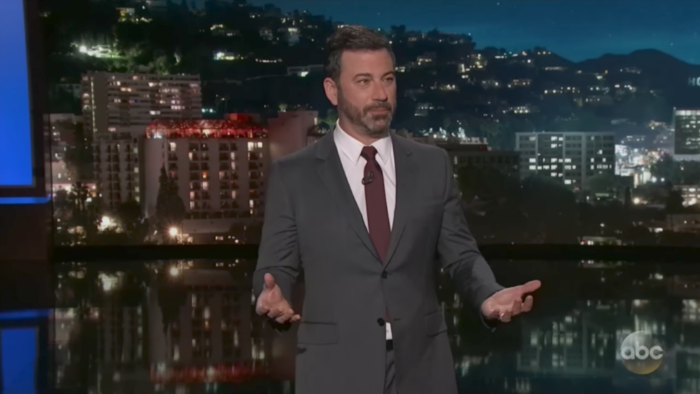 Late-night host Jimmy Kimmel mocked President Trump after the president stopped his speech Wednesday recapping his Asia trip to take a sip of water.
"He's talking about … bringing jobs back to America. He's drinking a bottle of water from Fiji. It's Fiji water," Kimmel said on his late-night show.
"He's not even drinking American water during the speech about American [jobs]. I think that does a very good job of summing the man up right there."
The comments come after Trump — just more than 10 minutes into his speech at the White House — abruptly paused and looked under his lectern for water.
"They don't have water. That's OK," he said.
Reporters then pointed to a small table next to the lectern. "To your right, sir," one reporter said.
Trump turned to the side, picked up a bottle of Fiji water with both hands and took a sip.
He then continued recapping his visits to Japan and South Korea, praising the governments there for their cooperation on trade.
The moment with the water bottle was reminiscent of Sen.
Marco Rubio
(R-Fla.) sipping water during his 2013 response to the State of the Union.
At the time, Trump mocked Rubio for his water break.
Source: Google Alerts