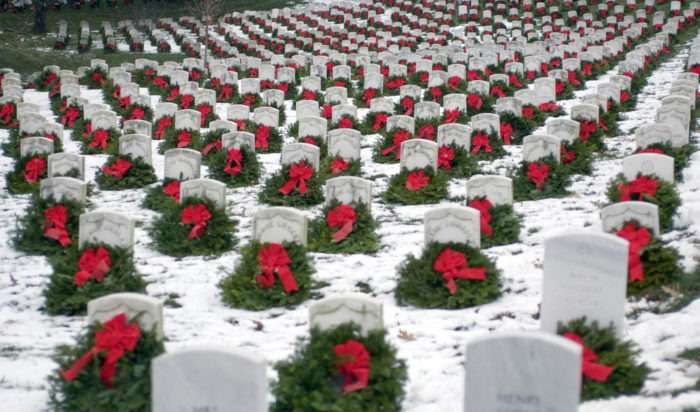 The grave markers' stark white exterior blended with the fresh snow at the veteran's cemetery in the Fort Missoula Regional Park, a pure foundation soon scattered with boot prints.
Saturday, Missoula's Civil Air Patrol organized the local iteration of Wreaths Across America, where several dozen service members, veterans and community members gathered to honor veterans and lay wreaths at their graves.
Lt. Col. Peter Graf opened with a moment of silence before speaking to the ideals protected and upheld by the military.
"The United States of America was founded on the ideas of freedom, justice and equality," Graf said. "We are all proud to be Americans that are part of a free society."
Representatives of each branch of the military, as well as prisoners of war and soldiers missing in action, placed wreaths in front of their respective seals that sit in an arced stone wall at the cemetery's entrance.
Graf asked for everybody's help in laying the over 500 wreaths in the veterans cemetery and the Fort Missoula Post Cemetery, and he encouraged them to write down the names to research.
"You'll find they're real Americans, with a family," Graf said. "They were — and are — not just a statistic. They're America's veterans.
"Now," he continued, "we get to tromp through the snow."
People fanned out across the cemetery, opening cardboard boxes that lined each row of graves, taking wreaths and laying them at an angle against the headstones, the bright green needles and red bows splashing the once-white field with color.
Wreaths Across America started in 1992, according to Civil Air Patrol Communications Officer Lt. Bruce Catter, when a group drove from Maine to Arlington National Cemetery, laying wreaths along the way.
It's since spread to around 1,200 locations, the Maine-based founders supplying thousands of wreaths.
Each event is timed to start at noon eastern, where the flagship ceremony at Arlington draws about 45,000 people.
"We're not going to get quite that many," Catter said with a smile.
Missoula's been a part of the event for four years, Catter said, as a way to honor and remember veterans during the holidays, and be thankful for what their service has brought.
Catter's reminder: "Freedom didn't come for free."
Source: Google Alerts