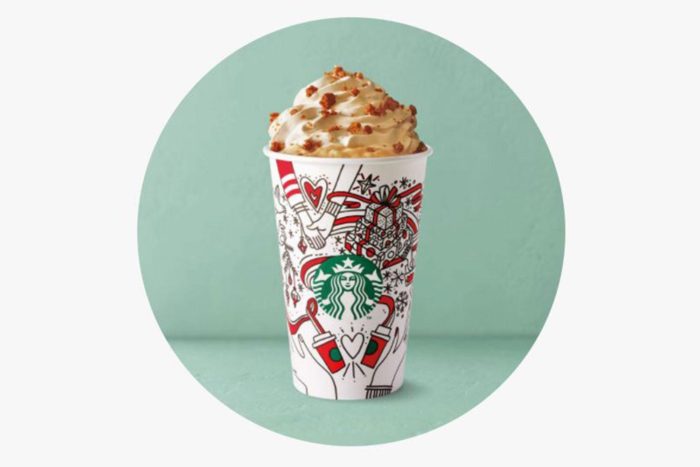 THE countdown to Christmas is finally upon us – and some of our favourite high-street coffee chains have responded by vamping up their regular menus.
With Costa Coffee already upping the stakes in the battle for the best Christmassy menu, Starbucks have certainly brought their A-game this year. So which seasonal food and drinks items are Starbucks launching to lure in the customers?
Starbucks Christmas drinks 2017
Spices top the Gingerbread Latte
Key festive flavours have been incorporated into the new menu, including toffee nut, gingerbread, eggnog and fudge.
Medium-sized drinks are priced from £3.55 and among the options, the Toffee Nut Latte is bound to be a popular choice.
The warming winter drink combines the flavours of toffee with toasted nuts, and is blended with smooth espresso and steamed milk – this year the drink even comes with a real hazelnut topping.
Customers with a sweet tooth may opt for a Gingerbread Latte, where Christmassy spices have been incorporated into the mix and this year the popular beverage is topped with a gingerbread whipped cream and wafer.
The Fudge Hot Chocolate is topped with gorgeous gold chocolate curls
If the cold never bothered you anyway, you could opt for an iced drink during the festive period – and this year there is a new offering when it comes to chilled Christmasmas beverages.
As well as having the option to "ice" any of the popular hot drinks, there is now a Festive Cold Brew which sees the brand's famous Cold Brew recipe infused with a Christmas spiced syrup and finished with dried orange peel and cranberries.
The much-loved Eggnog Latte is also back for 2017, and for many customers the drink symbolises the start of the Christmas season.
For those who like a caffeine-free Crimbo, the Fudge Hot Chocolate is back again and comes finished with whipped cream and golden chocolate curls.
There have been some concerns about the sugar and calorie content in the high street coffee shops this Christmas.
A report by The Sun revealed which high street coffee company was the most unhealthy choice this festive season.
The Toffee Nut latte is topped off with some sugary sprinkles and real hazelnuts
Eggnog is a flavour that has been used in this latte, as well as an iced option
The Festive Cold Brew is not for the shopper who's looking for a winter warmer
How many calories are in the Starbucks Christmas drinks?
It's no secret that festive coffees can be pretty calorific.
Here's the lowdown on how many calories each size of drink has, when made to standard recipe.
Toffee Nut Latte – Tall: 264, Grande: 348, Venti: 416
Gingerbread Latte – Tall: 258, Grande: 343 , Venti: 412
Festive Cold Brew – Tall: 25, Grande: 33 , Venti: 41
Eggnog Latte –  Tall: 271, Grande: 344 , Venti: 450
Fudge Hot Chocolate – Tall: 257, Grande: 315, Venti: 414
What about the Starbucks Christmas cups?
Each year, the coffee giant impresses by rolling out specially-designed drinks vessels.
As the illustrated cups are so hyped up, the cafe chain has very high expectations to live up to.
So unsurprisingly, not everyone is happy with the 2017 creation.
The 2017 cup has left some Starbucks fans a little disappointed
Dozens of social media users have passed their verdict on the alleged Starbucks packaging of the year – a "colour in" cup which is less red than previous years.
Some have complained that they aren't Christmassy enough and others were annoyed that the container didn't honour any other religions.
Ever wondered how the Starbucks Christmas cups became a trend?
Here's how it happened and how the designs have changed over the years.
And here's the lowdown on the leaked containers that hit social media last year.
Vlogger Joey Graceffa tests Starbucks' secret menu 'Nutella' drink
FESTIVE BREW
There's a new drink on the Starbucks Christmas menu and it's COLD
A latte trouble?
Starbucks' Xmas cup design has leaked online and not everyone likes it
BLOODY DELICIOUS
Starbucks have released a VAMPIRE Frappuccino just in time for Halloween
Spice up your life
There's a secret way to get a Starbucks ICED pumpkin drink
That's the spirit!
Starbucks has released whiskey-flavoured coffee and people don't know what to think of it