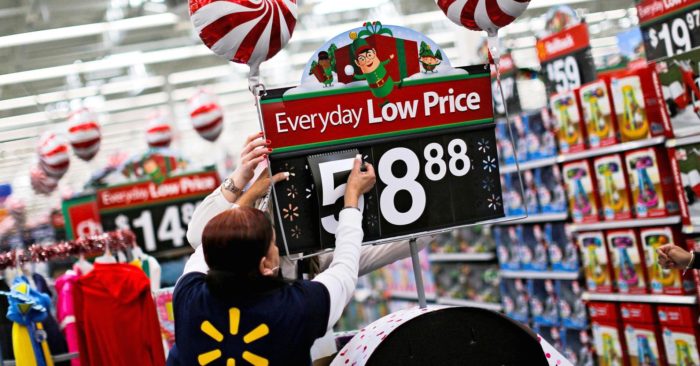 Wal-Mart's same-store sales for its U.S. locations climbed for the 13th-consecutive quarter, as the big-box retailer cited a bright spot in its food business and a boost from shoppers stocking up on hurricane supplies.
The Arkansas-based company on Thursday reported strong growth online, with e-commerce sales soaring 50 percent in the fiscal third quarter. That's a slower pace than in the prior period when digital sales were up 60 percent, as Wal-Mart is beginning to lap its acquisition of Jet.com.
Wal-Mart also raised its full-year earnings expectations, taking an aggressive stance heading into the important holiday season.
The retailer's shares were climbing more than 4 percent in premarket trade on the news.
Here's what Wal-Mart reported, compared with what Wall Street was expecting, based on a Thomson Reuters survey of analysts:
Earnings of $1.00 a share, excluding items, compared with a forecast profit of 97 cents per share.
Revenue was $123.18 billion, versus an estimate of $121 billion.
Same-store sales for U.S. stores, excluding fuel, climbed 2.7 percent, compared with an anticipated increase of 1.8 percent.
"We have momentum, and it's encouraging to see customers responding to our store and eCommerce initiatives," Chief Executive Doug McMillon said in a statement.
"Existing customers have become advocates for popular initiatives like online grocery and free two-day shipping, and as a result, new customers, suppliers and partnerships are coming to Walmart."
On a per-share basis, Wal-Mart reported net income of 58 cents, which was impacted by a $283 million charge to account for a likely fine related to a Foreign Corrupt Practices Act violation investigation that has been ongoing since 2012. Earnings, adjusted for non-recurring costs, came in at $1.00 a share.
Total revenue climbed 4.2 percent, to $123.18 billion. This included sales growth of 4.3 percent for Wal-Mart's U.S. business, 4.1 percent growth for Wal-Mart's international stores, and 4.4 percent growth at Sam's Club.
The average ticket at Wal-Mart's U.S. stores was up 1.2 percent, as the retailer's food business grew at a rapid clip. The company said its food categories delivered the strongest quarterly comparable sales performance in nearly six years, with fresh meat, bakery and produce leading the way.
"Market share in the critical food category continues to grow as the expansion of its buy-online/pick-up in store capability is driving increased sales, and the focus on improving working capital continues," Moody's lead retail analyst Charlie O'Shea wrote in a note to clients.
"As usual, we expect Walmart to largely set the tone on multiple fronts and in multiple categories for the Holiday season."
Comparable sales at U.S. stores, excluding fuel, were up 2.7 percent, compared with a 1.2 percent increase a year ago, also outpacing analysts' estimates. With fuel, total U.S. comparable sales were up 3 percent, compared with a 1.1 percent increase a year ago.
Same-store sales at Sam's Club, excluding fuel, climbed 2.8 percent in the fiscal third quarter, compared with an increase of 1.4 percent one year ago. With fuel, Sam's Club's comparable sales grew 4 percent, compared with 0.7 percent growth a year ago.
Looking to the full year, Wal-Mart is calling for adjusted earnings per share ranging from $4.38 to $4.46 in fiscal 2018. That compares with analysts' forecast of $4.38 per share.
"We expect top line growth going forward to be led more by comp sales and eCommerce with less emphasis on new units in the U.S.," Chief Financial Officer Brett Biggs said on a pre-recorded conference call.
"We're prioritizing eCommerce, technology, supply chain and store remodels over new stores and clubs."
All signs point to Wal-Mart being in a retail war with internet giant Amazon.
After acquiring Jet.com, the big-box retailer's online sales have skyrocketed, as Wal-Mart has brought other brands including Bonobos, Modcloth and Moosejaw into its portfolio. Meanwhile, the company is expanding curbside grocery pick-up service, beefing up its digital assortment and working with Amazon-rival Google on voice-activated shopping.
One weakness for Wal-Mart of late has been that its profit margins have dipped slightly due to more aggressive promotions. The retailer has been investing heavily to keep its prices competitive, and operating margins fell to 3.9 percent during the fiscal third quarter, from 4.4 percent a year ago.
"Price investments in certain markets and the mix effects of our growing eCommerce business were the primary contributors to the decline, although the impact from hurricanes in the U.S. was a significant contributor as well," Biggs explained.
Heading into the holidays, Wal-Mart plans to invest more in its stores — holding seasonal parties for customers — and offer more merchandise online. Just this week, the company announced a partnership with Lord & Taylor, where Walmart.com will begin selling the department store chain's high-end apparel options in spring of 2018.
On Thursday, CEO McMillon said his team is focused on attracting more "premium brands," such as KitchenAid and Bose, to the company's website. And analysts view those initiatives as promising.
"We remain outperform & we are encouraged by digital innovation and physical store execution at WMT," Cowen & Co. analyst Oliver Chen wrote in a recent note to analysts.
"Additionally, we believe WMT further leveraging Jet.com … over the next year will resonate with customers and help WMT efficiently grow online baskets."
As of Wednesday's market close, Wal-Mart shares have climbed nearly 30 percent in 2017.
Source: Google Alerts