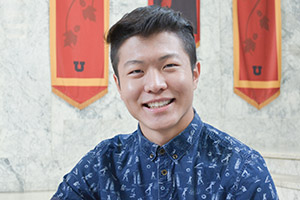 ChenWei Guo,
Police say a domestic violence call Monday night escalated into a carjacking incident that resulted in the death of a University of Utah student at a park near the campus.
ChenWei Guo, an international student from China, was shot and killed in his car while parked near the gate of the Red Butte Canyon, just northeast of the university.
The suspect, 24-year-old Austin J. Boutain, was caught Tuesday afternoon after a manhunt that took hours and involved hundreds of police officers combing through nearby buildings and foothills. Police said Guo and Boutain did not know each other.
University President David W. Pershing called Guo's death "a senseless, random act of violence."
The university's public safety department received a call about a domestic violence assault shortly after 8 p.m. Monday. University Police Chief Dale G. Brophy told reporters that a woman had shown up on campus and told officers that her husband had assaulted her and that he was at Red Butte Canyon.
[Grambling State freshman arrested in campus shooting that left two dead, including another student]
Shortly after, police received calls about shots being fired. Police said the woman's husband, Boutain, shot Guo while trying to carjack him. Boutain escaped and was found about 17 hours later at Salt Lake City's public library, a few miles west of the university, said Detective Greg Wilking, spokesman for the Salt Lake City Police Department.
Boutain and his wife, Kathleen E. Boutain, are wanted in a homicide that happened late last week in Colorado, Brophy told reporters. Authorities believe the two had been in Utah for days and were camping in the foothills near the university.
Police in Golden, Colo., said the Boutains are persons of interest in their investigation of the death of a 63-year-old man who was found dead in a trailer just after midnight Tuesday. Investigators believe he had been dead for a few days.
A green 2000 Ford pickup truck that was registered to the Colorado victim was also found in Utah, police said.
[Call about suspicious man was made by Georgia Tech student killed by police, investigators say]
Kathleen Boutain, 23, is in custody in the Salt Lake County Jail on unrelated theft and drug charges, jail records show.
Campus officials said they've been in contact with Guo's family in China and are working to fly them to Utah as soon as possible. The university canceled classes and offered counseling services Tuesday.
"ChenWei was a pre-computer science major with a promising future and worked as a peer advisor in our International Student and Scholar Services Office," Pershing, the university president, said in a statement.
The search for Boutain spanned the mountainside near the campus. It was called off at about 1:30 p.m. Tuesday without finding any sign of Boutain.
"We believe that we've searched where we believe he could've been hiding, or that we would've picked him up with the technology we used in order to search the mountain side," Wilking, the police spokesman, said.
Police announced that Boutain had been caught about an hour later.
Read more:
Four American college students are attacked with acid at France train station, authorities say
A husband and wife survived the Las Vegas massacre. They died in a fiery crash two weeks later.
She was supposed to find her son at the Las Vegas concert. Then shots rang out.
Source: Google Alerts