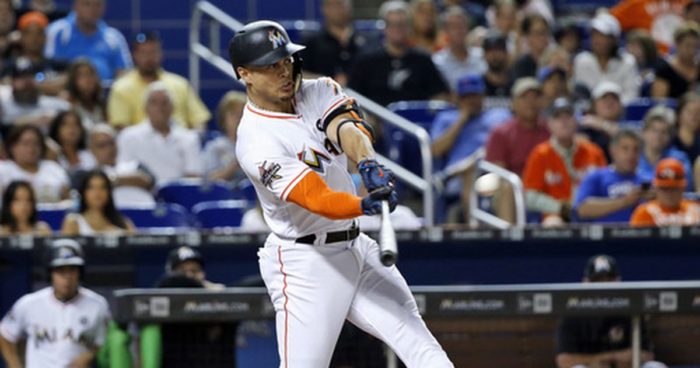 LAKE BUENA VISTA, Fla. – After staring down his old team, whom he said threatened to make him a "Marlin for life," the reigning NL MVP Giancarlo Stanton spoke like a man who had escaped from a dysfunctional franchise in South Florida for a chance to win in New York with the Yankees.
"This has been quite the experience, quite the road to get here," Stanton said.
Miami originally had trades agreed upon with the St. Louis Cardinals and the San Francisco Giants, even though they were not listed among the teams for which Stanton said he would waive his no-trade clause. When Stanton declined, Stanton's agent, Joe Wolfe, said that the Marlins told Stanton they would keep him for the rest of his 10-year, $295 million contract, which did include a player opt-out after 2020.
"You can say that and expect me to jump if it is not the right situation for me," Stanton said. "It doesn't matter what the dynamic was. You are not going to force me to do anything, regardless.
"It was said so it was definitely a thought of something that I was going to have to deal with."
Instead the Yankees came along and acquired Stanton at the discounted price of Starlin Castro and two Single-A players. The Marlins are also sending $30 million to the Bronx.
Stanton said he spoke to new Marlins leader Derek Jeter about the direction of the franchise after the former Yankee shortstop's ownership group took over. Stanton thought the club had a good lineup and needed to add pitching. Jeter thought the club needed to subtract assets to rebuild.
"When I signed up in Miami I wanted things to work out, and I had a good vision there," Stanton said. "But sometimes things spiral out of place and you need to find a new home."
With that in mind, Stanton said he is willing to do anything for a championship so however new Yankees manager Aaron Boone deploys him with fellow right fielder Aaron Judge, Stanton said he will be fine with it.
"That doesn't matter where I'm going to play," Stanton said after he slipped on his No. 27 pinstriped jersey for the first time at his introductory press conference during the Winter Meetings. "I'm willing to play wherever I need that can fit the team, whether that's rotating around right field with Aaron, DH. We haven't spoken about that specifically, but we're willing to find whatever works to make us the best."
Boone does not have a definitive plan yet, but he foresees Stanton DHing, playing right and maybe Stanton or Judge could even be in left at times.
"Today is a celebration for the New York Yankees, for our fan base and a celebration of one of the great players in our sport: Giancarlo Stanton," Boone said.
Stanton, who was joined by Boone, Yankees general manager Brian Cashman and managing partner Hal Steinbrenner, said that he's not worried about the pressure of playing in the Big Apple.
"This is what I've always wanted. This is what I've dreamed of," he said.
The Yankees would not have done the Stanton trade unless they could still fall under the luxury tax threshold of $197 million for the 2018 season, which will allow their tax rate on salaries from 50 percent. Sources said that Stanton's contract will only cost around $22 million for luxury tax purposes. This will allow the Yankees to possibly re-sign free agent CC Sabathia and possibly acquire another pitcher.
This is the second time the Yankees have acquired the MLB HR leader after a season in which they hit the most as a team. The only time the preceding home run leading team has traded for the home run champion, according to the Elias Bureau, were the 1920 Yankees, who acquired Babe Ruth, in 1919 from the Boston Red Sox. Ruth hit a season-high 29 in 1919, while the Yankees as a team swatted 45.
Judge and Stanton will become just the second pair of teammates to have hit 50 homers in the previous season. The only other teammates to do it were 1962 Yankee teammates Roger Maris and Mickey Mantle.
The last MVP to be traded also has a Yankee connection: It was Alex Rodriguez, whom Cashman acquired at a discounted price from the Texas Rangers in 2003.
Source: Google Alerts