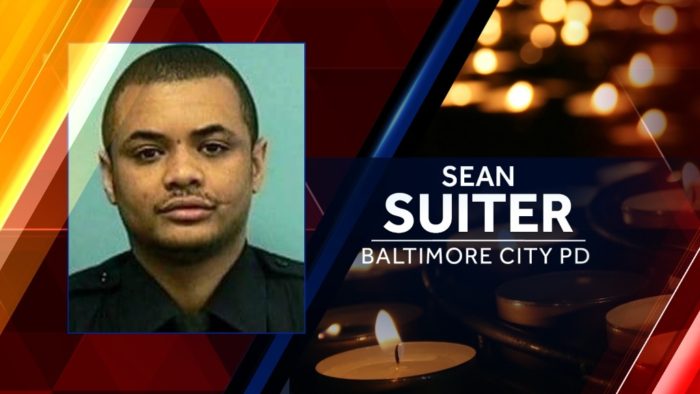 BALTIMORE —
Slain Baltimore police Detective Sean Suiter was tied to two high-profile cases.
Suiter was shot in the line of duty on Nov. 15. He died the next day.
Police Commissioner Kevin Davis disclosed Wednesday that Suiter was to testify before a federal grand jury in a police corruption case the day after he was shot and killed.
"The acting U.S. attorney and the special agent in charge of the Baltimore FBI field office have told me in no uncertain terms that Detective Suiter was not the target of any ongoing criminal investigation," Davis said.
Four city officers accused in the corruption case have pleaded guilty. Charges against five others are pending including those filed against Sgt. Wayne Jenkins, who worked with Suiter in a specialized unit for several years.
"I am now aware of Detective Suiters' federal grand jury testimony surrounding an incident that occurred several years ago with BPD police officers who were federally indicted in March of this year," Davis said.
Davis said he has been told that the lack of Suiters' testimony will not impact the federal corruption case.
One older case that has recently been reopened involved an April 28, 2010, high-speed car chase. Court papers said Umar Burley and Brent Matthews had been stopped by Suiter and Jenkins but managed to flee in an Acura.
During the pursuit, Burley's car struck another car, causing the death of an 86-year-old man who was a police officer's father. Police found 28 grams of heroin in Burley's car. He's currently serving time for manslaughter and drug charges.
Court records entered in August show two assistant prosecutors handling the police corruption case gave notice they are intervening in the Burley case, and there are new filings in the case, but they are sealed.
Earlier this year, Burley wrote the judge, asking for an attorney to be appointed. He pointed out his case involved Jenkins. The letter doesn't detail why. His new attorney had no comment when the 11 News I-Team reached him by phone.
No connection is being made between Suiter's killing and his pending grand jury testimony.
A GoFundMe page set up for Suiter's family has raised more than $47,000 since Sunday.
There's a $215,000 reward for information leading to an arrest and conviction. Anyone with information is asked to call 410-396-2100, text tips to 443-902-4824, call Metro Crime Stoppers at 866-7LOCKUP, or call the FBI at 800-CALL-FBI, Option 4.
Source: Google Alerts