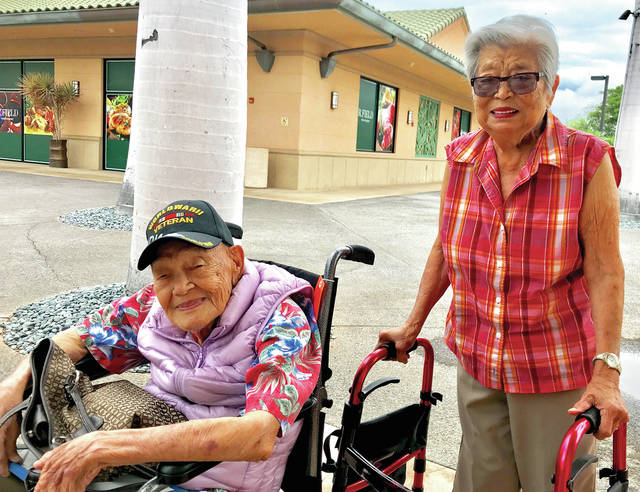 NORTH KOHALA — On Oct. 25, the United States Congressional Gold Medal was awarded to Filipino veterans of World War II in a Washington D.C. ceremony attended by, among others, Veteran Affairs Secretary David Shulkin, House Speaker Paul Ryan, Sen. Mazie Hirono and Rep. Tulsi Gabbard.
Alfred Estoche , a 106-year-old veteran and member of the famed U.S. Army First Filipino Infantry Regiment, was among the recipients. He was unable to attend the ceremony however, because at the same time he was moving to live with his bride of 72 years, Socorro, in the North Kohala home of their daughter, Lillian Lim, and her husband, Mac Amos.
Lim is among the oldest surviving U.S. Armed Forces Veterans of World War II. At the time he joined the Army, the U.S. military was racially segregated. He joined one of two U.S. Army regiments composed almost entirely of Filipino Americans formed in Northern California.
After training in combat, demolitions and the Japanese language, Lim volunteered for deployment to the Japanese-occupied Philippines. There, he worked with the local resistance movement, tracked enemy troop movements and employed his demolition skills. At that time he also met Socorro, his future wife, whose family was part of the Filipino guerrillas actively fighting the occupation forces and assisted American military operatives in their clandestine missions.
In addition to his numerous WWII medals, Lim has a framed order authorized by General MacArthur requesting all friendly forces to assist him in his mission.
Following WWII, he married Socorro who later immigrated with their two sons to Northern California. They made the challenging move from the Philippines in hopes of a better future for their children. Another daughter and son were born to them in California.
Following a lengthy Navy civil service career as an aircraft instrument mechanic, the Lims moved to San Diego to be closer to their daughter, Lillian. She and her husband later moved from San Diego to the Big Island, following retirement from their full-time careers as Superior Court judges. Lillian, thought to be the first Filipino American woman judge in the United States, will be speaking about her parents at the Hawaii Filipino Lawyers Association Annual Dinner this Thursday on Oahu.
So far, her parents are pleased with the warm weather in Hawaii, which reminds them of the Philippines, and local papayas from the Filipino Farmers Market in Kawaihae. They can be seen around town, with Lim sometimes sporting a WWII veteran's baseball cap. He and Socorro are easily recognized by their smiles, Lilian said.
Source: Google Alerts