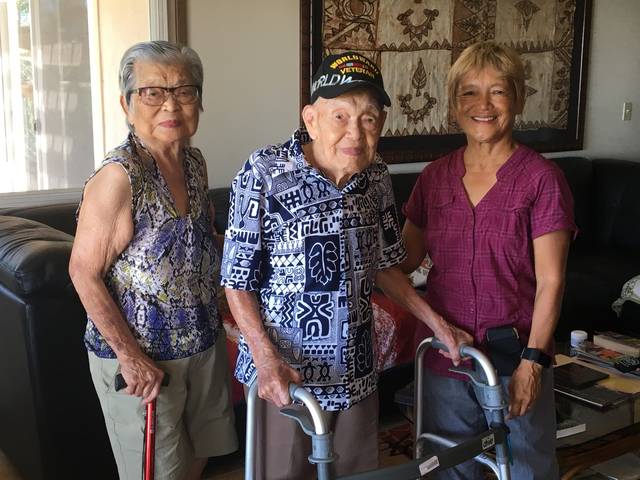 KAWAIHAE — Al Lim was 30 years old when the United States entered World War II.
After the attack on Pearl Harbor, Lim tried to enlist in the U.S. Navy, said his daughter Lillian Lim, but because he was a national and not a citizen, he was turned away.
But he could be drafted into the Army.
"I have no choice," he said with a laugh. "You report. You're of age; that's it."
Al Lim — a North Kohala resident — became part of the Army's First Filipino Regiment, activated July 13, 1942, in Salinas, California.
Lim, now 106, is one of more than a quarter million Filipino soldiers who fought in World War II, according to the Filipino Veterans Recognition and Education Project.
About 300 of the Filipinos and Filipino-Americans who served came from Hawaii, according to a 2015 article published by the Honolulu Star-Advertiser. Their numbers included former Chief Justice William Richardson and state Supreme Court Justice Benjamin Menor, who served in the same regiment as Al Lim, said Lillian Lim.
And last month, their service was recognized with the awarding of the Congressional Gold Medal.
"To me, it's a recognition of service under very difficult circumstances," said Lillian Lim. "You're living in a time when people don't fully recognize you being an American. But at the same time, you serve."
The Filipino Veterans of World War II Congressional Gold Medal Act of 2015 was introduced in June of that year in the House of Representatives by Rep. Tulsi Gabbard and in the Senate by Sen. Mazie Hirono. Sen. Brian Schatz co-sponsored the Senate version. The law passed through Congress unanimously, according to a statement from Gabbard's office, and was signed into law last December.
The legislation awarded the gold medal to the war's Filipino veterans collectively and had the medal given to the Smithsonian Institution for display.
Al Lim was born in Jaro in the province of Iloilo. When he was a teenager, his father sent him to Hong Kong and Southern China to learn Cantonese, according to a biography provided by his family.
He was 18 when he first came to California.
While working on his GED at Berkeley High School, he worked for a local family, helping take care of the kids and cooking. He also worked a variety of other jobs — chauffeur, crop picker, a boxer and a civilian storekeeper for the U.S. Navy.
But after he was drafted, he had to get accustomed to Army life, which wasn't easy.
"The food was lousy," he said.
"You eat what they feed you," he added with a laugh. "You had no choice."
After training, which included lessons on demolitions and the Japanese language, Lim volunteered for a deployment to the Philippines, occupied at the time by Japanese forces.
To get there, he had to travel via submarine with a handful of other men, bringing with them medical supplies, weapons and explosives.
Once there, he joined with the Filipino Guerillas, setting up a base of operations in the mountains.
He was one of 500 Filipino-Americans sent to the Philippines to prepare for the Philippines liberation.
While there, Lim prepared explosives for strategic targets, such as bridges and Japanese military targets.
It was also where he met the woman who became his wife, Socorro Lim.
Socorro Lim's brother, Lt. Ricardo Toribio, was in the resistance movement and was an aide to World War II Brig. Gen. Alejo Santos.
While in the Philippines, Al Lim would often come down to town from the mountains, Lillian Lim said, dressed in civilian clothes.
He was a smoker at the time, but had a preference for American cigarettes, hiding them in the package of a local brand.
One time, Lillian Lim said, the Japanese were searching a line of local residents when they grabbed Lim's pack of cigarettes.
Fortunately for him, she said, they didn't check inside.
Al Lim and Socorro Lim got married in February 1945 in a small ceremony. By the time their first son was born, Lim had been discharged. His medals included a Bronze Star with Oak Leaf Cluster and a presidential unit citation.
After being discharged, Lim got a job as a lineman at Clark Air Base on Luzon Island, and in 1948 the couple moved to California with their two oldest sons. Lillian Lim was the first in her family born in the states.
Lillian Lim said her father's service is how he got his citizenship.
She said her parents didn't share a lot of stories about the war growing up, and it was only later when they started asking questions and looking at his certificates and medals.
Al Lim summed up succinctly how he felt and what he thought when the war ended.
"Proud to wear the uniform," he said.
Source: Google Alerts