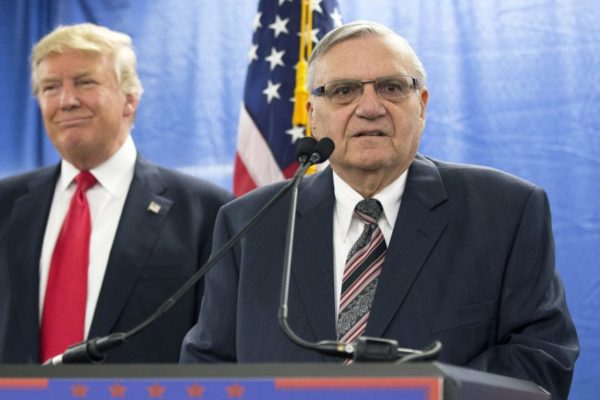 Then-candidate Donald Trump joined by Joe Arpaio at a news conference in Marshalltown, Iowa, in January 2016. Photo: Mary Altaffer/Associated Press
Former sheriff, whom Trump pardoned last year, will join crowded GOP primary for Jeff Flake's seat
Joe Arpaio, a former sheriff whose hard-line immigration stance led to a federal conviction before President Donald Trump pardoned him last year, said Tuesday he is running for U.S. Senate in Arizona, scrambling the politics of one of this year's most competitive races.
Mr. Arpaio, 85 years old, is entering the GOP primary to succeed retiring Republican Sen. Jeff Flake, who is one of the Senate's most vocal critics of the president.
In recent years, the former sheriff of Maricopa County, which includes Phoenix, became a national hero of anti-immigration forces for his aggressive efforts to round up undocumented immigrants. His tactics—including harsh treatment of people he took into custody—were derided by human-rights groups, attracted hundreds of lawsuits and ultimately ran afoul of the Justice Department.
A federal judge last year found Mr. Arpaio guilty of criminal contempt for defying a 2011 court order to halt immigration raids, but Mr. Trump granted him a pardon one month later, praising the sheriff for what he called "selfless public service." Mr. Arpaio was defeated in his 2016 bid for re-election, ending a 24-year career.
A key question is whether Mr. Trump will weigh in on what is shaping up to be a three-way Senate GOP primary and endorse Mr. Arpaio, who campaigned with him in 2016 and in his Tuesday announcement trumpeted his loyalty to the president. Mr. Trump and his allies are still smarting from his double loss in last year's Alabama special Senate election: The president picked the loser both in the GOP primary and in the general election.
Arizona is seen by Democrats as a top pickup opportunity in a year in which they only need to flip two seats to win a majority but must defend many more seats than Republicans. Mr. Trump won Arizona in 2016 by less than four points.
Democrats believe they have a strong candidate in Rep. Kyrsten Sinema, a 41-year-old third-term congresswoman representing parts of Maricopa County.
"Joe Arpaio's prejudice didn't deserve a pardon from President Trump, and it certainly doesn't deserve a U.S. Senate seat," said Democratic National Committee Chairman Tom Perez, who was a Justice Department official when it filed a discrimination lawsuit against Mr. Arpaio in 2012. "Democrats will fight tooth-and-nail to make sure Joe Arpaio never holds public office again."
Mr. Arpaio will be running in the GOP primary against Kelli Ward, a state senator who entered the race to challenge Mr. Flake before he announced his retirement. She won the backing of former White House strategist Steve Bannon, although she distanced herself from him after Mr. Bannon came under fire from the president for hostile remarks about Trump family members in a new book.
Also expected to run for the GOP nomination is Rep. Martha McSally, whose candidacy is viewed more favorably by mainstream Republican officials. Ms. McSally, who represents a Southern Arizona district, is expected to announce her candidacy Friday.
The winner of a plurality of the primary election vote wins the GOP nomination.
Write to Janet Hook at janet.hook@wsj.com