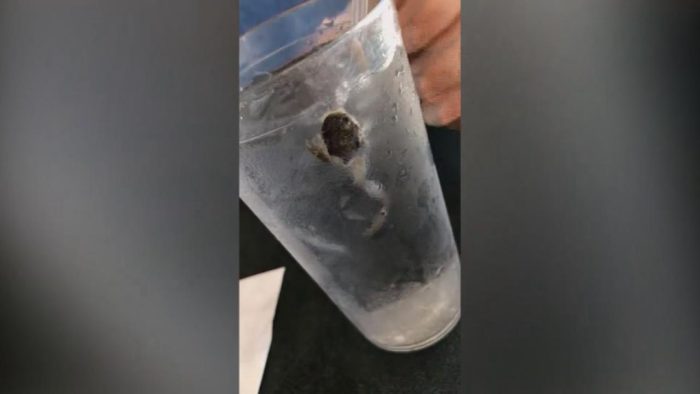 TALLAHASSEE, Fla. —
A Tallahassee couple says they found something disgusting in the glass of water they got from a Waffle House: a dead frog!
Claire Sheats says she and her husband had their drinks while waiting on their food at Waffle House. Her husband eventually looked down to see the dead frog in his drink.
"In my husband's drink, there's a whole frog just floating around in the water," Sheats said.
Sheats says they dumped the glass of water out onto the table to be sure of what they saw.
"Sure enough, there's the frog," Sheats said.
He'd already taken a few sips. Sheats says the staff was as baffled as she and her husband were and the manager apologized.
"Disgust. It's a whole frog in a water drink and you're at a restaurant. You have hairs in your food sometimes, or maybe a little piece of plastic from packaging. But, this is an amphibian. You definitely lose your appetite immediately," Sheats said.
The couple left, filing a complaint with the Waffle House corporate office and the state health department. WCTV reports the health department inspected the restaurant four days later on November 9.
The state report shows eleven violations, including food residue buildup in coolers, grease buildup in the cooking area, dust building up, and food stored at an improper temperature. The report does not mention an investigation of a frog incident.
"You don't expect a frog. So, it was quite a surprise," Clare Sheats.
The health inspector reports the violations are not an immediate threat to the public.
"My husband and I have always enjoyed Waffle House. But, being that that happened, it kind of puts a bad taste in your mouth," Sheats said.
The health inspection report says the restaurant has until the end of this week to correct the violations.
A Waffle House spokesperson released a statement saying, "We are concerned about this claim and are currently investigating the circumstances. Our corporate team is working with the local operators to determine the facts. Based on what our District Manager saw at the time and after reviewing the video, there are still some issues we are looking into. Serving quality food and delivering a quality experience are responsibilities we take seriously, and we will continue to review this matter."