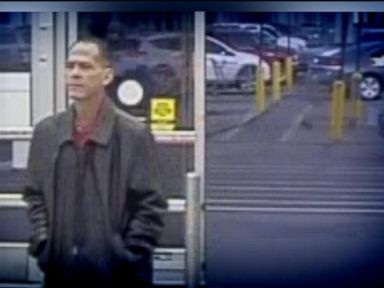 The gunman accused of "nonchalantly" opening fire at a Colorado Walmart Wednesday night was identified on Thursday as police continue to hunt for the "armed and dangerous" suspect who shot and killed three people.
Thorton police identified the suspect as Scott Ostrem, 47, issuing a a nationwide extradition homicide warrant for him. Ostrem allegedly walked into the Walmart in Thorton, a suburb north of Denver, just after 6 p.m. Wednesday and "nonchalantly" opened fire at the crowd of shoppers, according to police. Two men and a woman were killed.
Police released photos showing Ostrem wearing a black jacket, blue jeans and a maroon shirt. They are also searching for a red Mitsubishi Mirage four-door hatchback.
Walmart shooting incident, person and vehicle of interest, remain anonymous, call Crime Stoppers 720-913-7867 pic.twitter.com/PFNbEALpbG

— Thornton Police Dept (@ThorntonPolice) November 2, 2017
Employees dashed to the back room Wednesday night and hid there when shots rang out. They then ran out of the back door about five to 10 minutes later, FOX31 Denver said.
"I was just picking up my last item and about to head towards the checkout," a witness at the store told FOX31. "Heard two slow pops that sounded like they were coming from the front checkout area and then started to run as about four more shots rang out a little faster. At that point everyone was just running and screaming."
Aaron Stephens, 44, was in the self-checkout line when he heard a single shot followed by two more bursts of gunfire before people started running for the exits.
"The employees started screaming. Customers were screaming. They were running like crazy, and I ran out too because I didn't want to get killed," he said.
Twitter users posted videos of mass chaos around the Walmart as emergency vehicles rushed to the scene. Guadalupe Perez was inside the store with her young son when she heard what she thought was a balloon popping. A Walmart employee told her someone was shooting, then Perez saw people running away yelling, "Let's go. Let's go. Leave the groceries."
Shooting at a Walmart in Colorado. pic.twitter.com/JiDaLwtncY

— Ryan Saavedra 🇺🇸 (@RealSaavedra) November 2, 2017
"You see all these things in the news and you go through it, it's scary," she said. "But thank God we're OK and nothing happened to us."
Thorton police spokesman Victor Avila said the shooting appeared to be a random act and that there were no indications that it was an act of terror at this moment. Investigators, including special agents with the Bureau of Alcohol, Tobacco, Firearms and Explosives, were reviewing security video and interviewing witnesses to identify the suspect.
"This is a very heinous act," Avila said. "We don't know exactly what the motive of the person was, but it was certainly a terrible act."
North Suburban Medical Center told Fox News it had admitted "two bystanders who came in stable condition." It was not immediately clear whether those injuries were part of the official total. Two men died inside the Walmart. The woman died later at a hospital. Authorities did not immediately release any other information about the victims.
Ragan Dickens, a Walmart spokesman, said the company is working with investigators and declined to comment further.
Fox News' Alicia Acuna and the Associated Press contributed to this report.